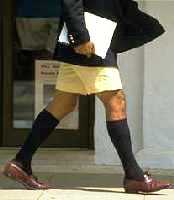 I've been wanting to post an image of the cover for BERMUDA SCHWARTZ. But noooo ... I'm in cover hell.
Backstory: I've loved the covers for my first two books, both the hardcover and mass market versions. Lots of color. They jump off the bookshelves. They convey a sense of the tropics and let readers know that the books aren't, you know, dark, gloomy psychological wallowings with a tormented protagonist who feels so goddamn sorry for himself that he's gonna drag the reader down with him. At least, that's what they convey to me.
But the good folks at St. Martin's think the covers have been, well, a tad too goofy. They think the cover for BERMUDA SCHWARTZ needs to have a bit more edge. They think its cover needs to convey a sense of danger and foreboding because, while the story does have it's off-the-wall moments, people die in strange and awful ways.
So. There's the quandary. Goofy title, like all my titles. Smart-ass hero. Gorgeous setting. Bad stuff happens. How do you create a cover around all that?
A couple of weeks ago, my awesome editor, Marc Resnick, sent me a rendering of the proposed cover. His message was brief: "Let me know what you think."
I opened the file. I looked at the image. It was gawd-awful. I don't even want to describe it. That bad. I called my agent, the awesome Joe Veltre. He hated it. I called my wife, the awesome Debbie. She hated it.
"No one will buy a book that looks like that," she said. "It's an embarrassment. You've got to MAKE THEM STOP!"
Here's the deal: Authors like me -- fairly newish authors who don't sell millions of books -- pull little weight when it comes to covers. Publishers and editors and sales reps and marketing people decide what covers look like. They have meetings and talk about strategy and positioning, and then they hand off everything to the designers and hope for the best.
I've spoken with dozens of authors who have hated their covers and been forced to live with them. So I did not have great expectations when I called Marc Resnick. Our conversation:
Marc (in his typically upbeat manner): "So, what do you think of the cover?"
Me (trying to be diplomatic): "It doesn't work for me on any level."
Marc: "Meaning ...?"
Me: "Meaning I hate it. Who do I have to sleep with to make it go away?"
Marc: "Well, not your editor, that's for goddam sure ..."
Here's the good news: It's back to the drawing board. Other people at St. Martin's hated the cover, too. And even as I write this, a crackerjack team of artists and designers is feverishly struggling to come up with a cover for BERMUDA SCHWARTZ that hits on all notes. Actually, this is just my delusional thinking. It's probably more like one tragically underpaid freelancer feverishly struggling etc.
Meanwhile, I'm sitting here in cover hell.